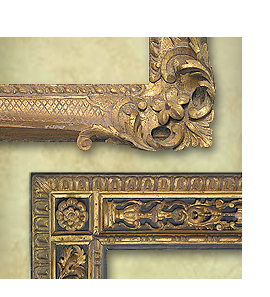 The House of Heydenryk has one of the most extensive antique picture frame collections in the country. Our inventory consists of period frames from the 15th century to the early 20th century.
Our restored antiques hang in the world's major museums and have been used on a wide range of artists from Old Masters such as Rembrandt, Caravaggio and Velázquez to 19th-century painters including Eakins, Ingres, Cézanne, Monet and Van Gogh.
Please keep in mind that we can fully restore any of our antique frames according to your exact specifications as well as adjust the size of each frame to fit your artwork. Here are a few samples from our vast collection.