Frame Restoration
The House of Heydenryk will fully restore an antique picture frame by utilizing the same materials and techniques of the artisans who built it. We will adjust the size if it is necessary by cutting down or expanding the frame to fit the artwork. Our expert carvers and gilders can repair and refinish each antique in accordance with the client's specifications and needs.

Art Restoration
The House of Heydenryk offers full art restoration services for every medium—paintings on canvas or wood, works on paper (including drawings, engravings, lithographs, watercolors, pastels and posters), textiles and photographs.

Mirror Frames and Designs
The House of Heydenryk has a limitless selection of antique mirror finishes made by the finest glass artisans in the country. We specialize in creating and designing custom made mirror solutions for architects, interior designers and homeowners. The styles range from the earliest period reproductions to Modernist 20th- and 21st-century designs.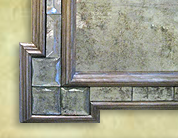 Beveled, silver gilt mirror panel frame with key corners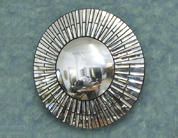 "Francois" circular mirror frame with metallic grid panel design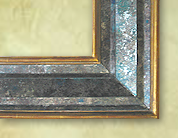 Eglomise frame with inlaid, hand painted silver gilt mirror panels
Contemporary and Modern Framing
The House of Heydenryk has simple and archival framing solutions for every type of artwork. We have an enormous inventory of contemporary mouldings in a variety of gilded, stained or painted woods such as oak, maple, mahogany, walnut, ash and bubinga, as well as welded steels. Custom acrylic boxes are also available for showcasing artifacts, objects and memorabilia.