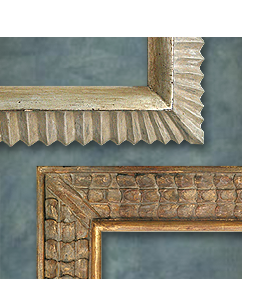 The House of Heydenryk is recognized worldwide as one of the most creative and influential picture frame makers in history. We have hundreds of exclusive, one-of-a-kind models in our inventory, which we can change and update for each project.
Many of our designs were created for and with some of the most important artists, dealers, collectors and designers of the 20th century. We continue to introduce and produce new styles for contemporary artists, decorators and architects. In addition to embellishing mirrors and enhancing paintings by European and American artists, these frames are used regularly on a wide variety of artwork from such continents as Asia, Africa, Australia and South America. The mouldings are painted, stained, scraped and/or gilded in unique Heydenryk finishes that have often been imitated but never duplicated.
Here is a small selection from our collection of original designs.